Eventi
Yoga travel retreat in India: 12 - 22 March 2023
Scritto da
Elena Cassinelli
il
23 Novembre 2022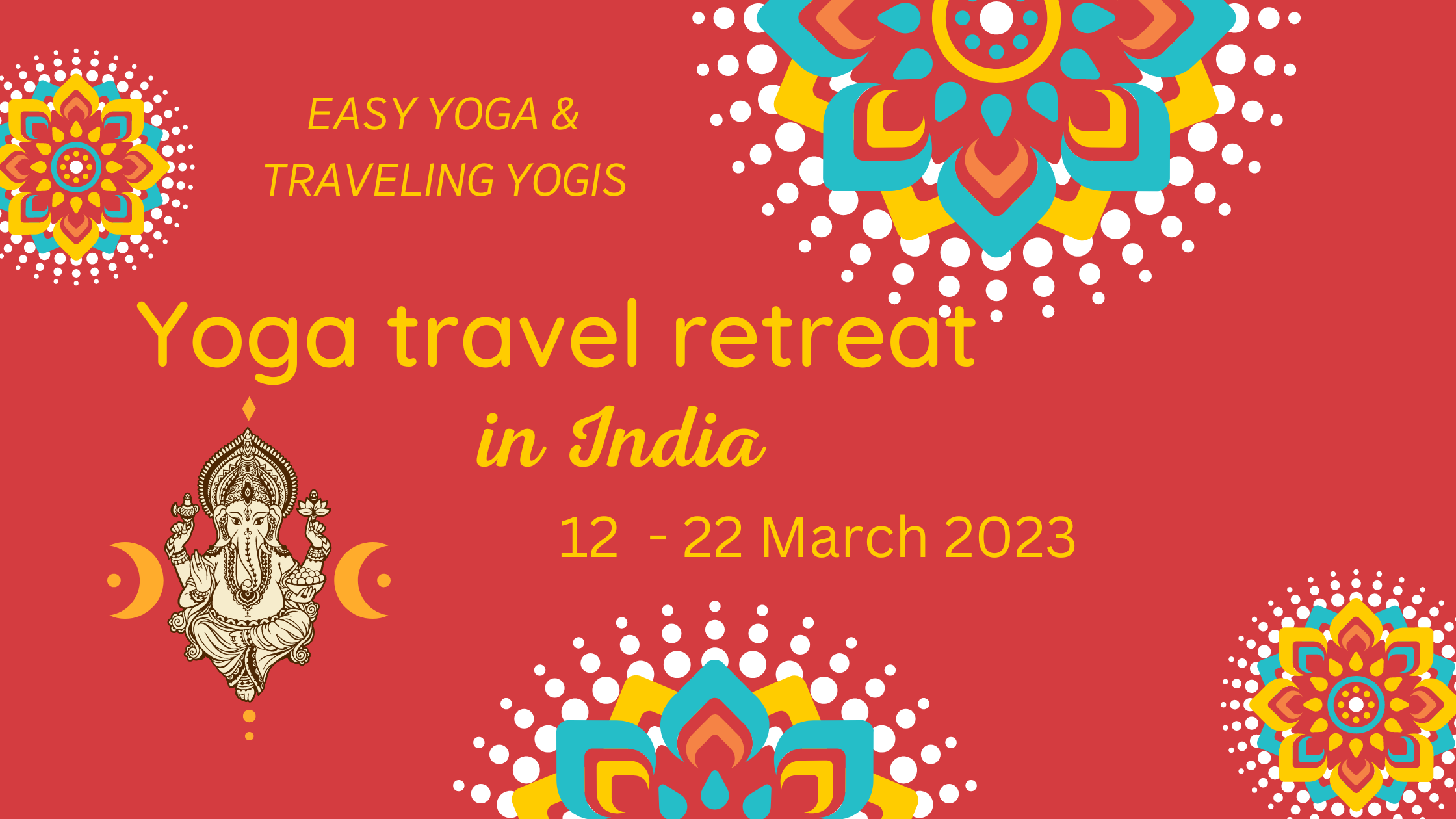 Join us for a wonderful Yoga retreat in the heart of India. During this 11-day trip you will explore India, taste delicious Indian food, visit temples and historical monuments, and practice Yoga, Pranayama and Meditation.
If you don't want to practice yoga you can still join us, we have packages for all the needs!
TRAVEL ITINERARY
Date
Plan

12/03

(1 Night)

Transfer from Delhi International Airport to hotel

13/03

(1 Night)

Transfer to

Vrindavan

by bus (3 hrs)

Visit ISKON temple and Prem Mandir

14/03

(1 Night)

Transfer to

Agra

(2 hours)

Visit Taj Mahal and Agra Fort

15/03 – 16/03

(2 nights)

Transfer to

Jaipur

(6 hrs)

Visit Amber Fort, Hawa Mahal, Krishna Temple, City Palace,

Birla Temple, Albert Hall Museum. Shopping

17/03 –  18/03

(2 nights)

Transfer to

Jodhpur

(7 hrs)

Visit Mehrangarh Fort, Jaswant Thada, Balsamand Lake.

19/03- 20/03

(2 nights)

Transfer to

Jaisalmer

(6 hrs)

Visit Thar Desert, Jaisalmer Fort.

One night stay at luxury Desert camp.

21/03

(1 Night)

Transfer to

Bikaner

(6.5 hrs)

22/03

(1 Night)

Transfer to

Delhi

by flight.

Check-in to Hotel

Transfer to international Airport.
*please book a return flight from Delhi in the evening/night of the 22/o3.
DAILY SCHEDULES
6.30 – 8.00 AM Asana practice, Meditation and Pranayama
8.00 AM Breakfast
9.15 AM – 6.30 PM Sightseeing & Lunch
8.00 PM Dinner *
*daily schedule might change
YOGA PRACTICE AND MEDITATION
Yoga classes are designed for everyone : both the beginner and intermediate level practitioner will benefit from the classes. 
Asana practice will helps us to connect with our bodies, releasing deep muscular tensions and cultivating awareness of different parts of our bodies.
Through meditation we will be aware of the activities of our mind and the nature of our thoughts. Daily practice helps us to calm the mind and to cultivate deep feelings of joy and happiness. We will give you tools in order to understand the mechanism of meditation and to allow you to continue your practice independently even when you return home.
Pranayama (breathing exercises) have positive effects on our body and our nervous system, which eventually calms down our mind.
Yoga Nidra is a technique for deep relaxation both mentally and physically. With Yoga Nidra relaxes our mind as well as body and we are pervaded by an overall sensation of well being. 
STAY, MEALS AND TRANSFERS
All the stays are arranged at 5 star hotels. Hotels will provide us breakfast and dinner. We will be having lunch at local restaurants, all the restaurants are chosen following rigid criteria of hygiene and quality purposes.
Transfers between cities will occur with a private luxury bus, with AC and reclining seats.
WHAT'S INCLUDED
Transfer to and form Delhi International Airport.

All intercity Domestic transfer by bus.
3 vegetarian meals per day
Flight from Bikaner to Delhi
For packages including Yoga:
Daily Asana and meditation sessions in morning.
HIGHLIGHTS
All stays are at 5 Star hotels
Private Guide
Evening cultural show at Jaisalmer*
*depends on the schedule.
WHAT'S NOT INCLUDED
International flight to and from Delhi

Travel and Health insurance

Visa fees

Personal shopping

Anything that is not stated in the above "what's included" section.
RATES
You can choose from following different packages.
Early birds – for bookings up to 31st January
(Confirmation of Early birds is only after we receive deposit amount)
Single accommodation with yoga: 2,000€ 

Single accommodation without yoga: 1,900€ 

Double accommodation with yoga: 1,600€

Double accommodation without yoga: 1,500€ 
Regular Booking rates:
Single accommodation with yoga: 2,300€ 

Single accommodation without yoga: 2,200€ 

Double accommodation with yoga: 1,800€

Double accommodation without yoga: 1,700€ 
Note: Prices are per person for the whole trip.
If you are traveling alone but would want to share a room, let us know. Based on availability we can match you with other participants. In this case, the double bedroom will be with twin beds and we match the same gender participants.
HOW TO BOOK
To reserve your spot you have to transfer 40% of the total value of the chosen package (via bank transfer).
This deposit is not refundable, so we highly recommend that you buy travel insurance.
EARLY BIRDS DEPOSIT
Single accommodation with yoga: 800€ 

Single accommodation without yoga: 760€ 

Double accommodation with yoga: 640€

Double accommodation without yoga: 600€ 
REGULAR RATES
Single accommodation with yoga: 920€ 

Single accommodation without yoga: 880€ 

Double accommodation with yoga: 720€

Double accommodation without yoga: 680€ 
The final payment has to be finalized 30 days before departure.
Details to transfer the money:
Account owner: Elena Cassinelli
IBAN: IT29B0305801604100571877267
SWIFT/BIC: MICSITM1XXX
CANCELLATION POLICY
Please read carefully the following cancellation policy and charges.
for cancellations between 29 and 15 days prior to departure, penalty is 50% of the cost of the package,

for cancellations after 14 days prior departure, penalty is 100% of the cost of the package.
We suggest you buy travel insurance that covers cancellation penalty.
WEATHER IN INDIA
During March, weather in North India is warm and pleasant, with temperature between 16℃ and 28℃. Mornings and evenings might be chilly, during the day the temperature will rise. Usually there is no rain or very little rain in March as it's the dry season.
WHAT TO BRING
You should bring comfortable clothes for yoga practice, yoga mat, personal items, toiletries, personal medications, clothes for sightseeing.
We also suggest you bring mosquito spray, probiotics, paracetamol and antidiarrheal medications.
BEFORE DEPARTURE
Please be sure to apply and get a visa before traveling. You can apply for an electronic visa or via the Indian embassy in your country. (

https://indianvisaonline.gov.in/evisa/tvoa.html

) (E-Visa fee is around $25 in Italy)

If you need any help in getting the visa please ask us.

Read and make sure you follow Covid regulations and requirements to enter India.

Meet with your family doctor to check up on your vaccines situation.
WHY SHOULD I JOIN?
India is a wonderful country, rich in spirituality, history, and natural treasures.

This trip is an unique opportunity to visit this beautiful country and experience it with the view of both a native person (Mayank) and of a western person (Elena).

Mayank and Elena will help you understand traditional Indian culture, keeping in mind the differences between cultures. 
Traveling in India is like a journey inside yourself as India can be easily considered the land where the most important philosophies were born.

Daily yoga and meditation practice will guide us in this beautiful journey both inside and out.
FAQs
Q:I never attended yoga class nor meditation class, can I still join?
A:Sure! All the classes will be suitable for any type of participants.
Q:I am traveling alone, I would like to join but don't feel like doing yoga, can i come anyway?
A: Of course, anyone is welcome to join our trip and if during the stay you wanna try one class we will be happy to have you :)
Q:I want to come with my partner, she/he wants to attend yoga class but I don't; what should I do while you do yoga?
A: You can rest at the hotel, read a book or enjoy some time at the swimming pool.
Q: Where will the Yoga session be conducted?
A: Yoga sessions will be conducted in halls at Hotels.
Q: Can I  stay in India after the trip?
A: If you want to stay in India after the you're free to do it. From Delhi you can visit other places by yourself or with a local guide. Please be aware that all the costs from the 22nd of March will not be covered by our packages.
ABOUT US
Mayank
Mayank's yoga journey started when he attended courses at Isha Foundation. He later studied Yoga asanas and Yoga detoxifying techniques individually with his teacher from the Bihar school of yoga for 3 years. He refined his education on Yoga Asana, Yoga Philosophies & Advanced Pranayama by joining one year intensive teacher training at Sivananda Dhanwantri Ashram in Kerala. He also has basic knowledge of various Ayurveda concepts and techniques which he studied during his course at Sivananda Ashram.
Elena
Elena started practicing yoga occasionally during university. The practice became regular when she moved to Portugal in 2014, where she met her first teacher, who guided her deeper into the teachings of Yoga. Elena has been teaching yoga full time since 2017 in Alba (Italy). 
Mayank & Elena meet in India during a Yoga-therapy specialization course. They share interests and knowledge of Yoga Philosophy and Ayurveda. Both believe in a holistic and traditional approach to yoga, where all the resources taught by this ancient system of thoughts are used to help people live a happier and healthier life.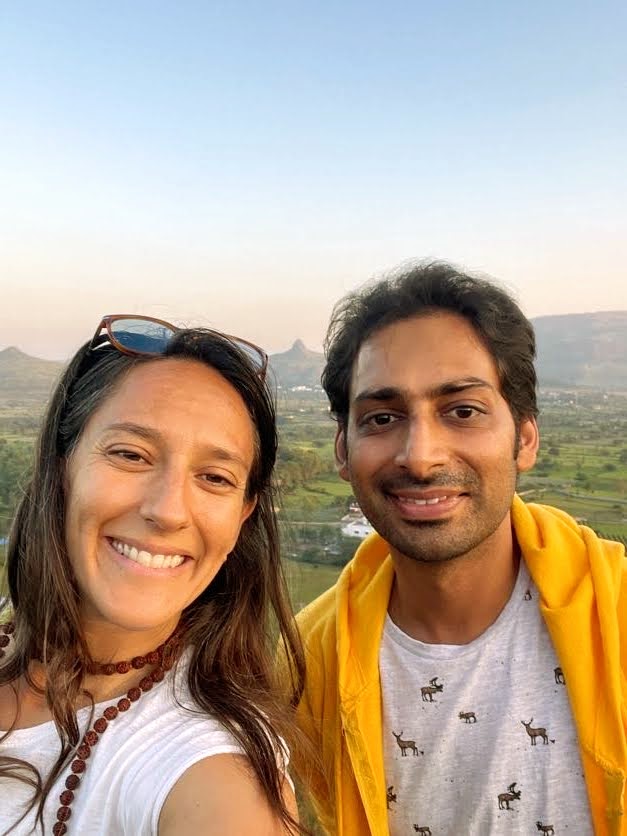 For more information contact us:
Mayank
+91 91 93155 555